Products Catalog
Products >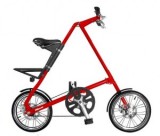 Product Description
The first completely new bicycle geometry in 95 years.
Product Features:
--The first completely new bicycle geometry in 95 years.
-- Inside a triangular frame of lightweight aluminum, power is transferred to the rear wheels
via a silent clean Kevlar belt.
--Handlebars are mounted horizontally, so the rider can sit comfortably upright
with an excellent view of the road.
-- The genius of the triangular frame is that it can fold. In six seconds, you have a light,
compact form that you can easily wheel before you, stow in a closet,
load in your car or take on the train.
-- With no external grease or oil to soil your clothes, makes daily commuting fun & practical.
-- Now, instead of being snarled up in traffic, you can ride wherever you want,
then fold up your transport and take it with you.
Technical Specfications:
Bike Net Weight:
19.4 lbs (9kg)
Bike Frame:
7000 series aluminum
Drive chain:
Kevlar greaseless belt drive
Wheels:
injection molded 16" (41 cm)
Brakes:
Front and Rear Disc Brake
Rim:
Black Anodize Alloy
Cranks:
4 Spider Cast Aluminum
Freewheel:
Internal Hub Freewheel
Folded Size:
45" x 20" x 20" (114cm x 51cm x 51cm)
Luggage Rack:
optional - holds 30 lbs (14kg)
Reflective strip:
scotchlite
Rider weight limit:
250lbs (110kg)
Rider height:
5'4" to 6'4" (163 to 193cm)
Speed:
single speed (56 gear inch)
Conveyance:
Carton Dimension:
L700 x W390 x H350cm
N.W./G.W.:
10kg/14kg
Container Load Quantity:
198 sets/ 20'FCL 390 sets/ 40'FCL 411 sets/ 40'HQ
Copyright © 2005-2008 China Blue Ocean Extreme Sports Co.,Ltd.
All Rights Reserved. Powered by
hi-eweb.com